Announcing the 2017 Crowdfunding Challenge!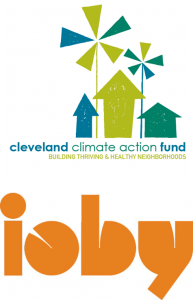 This fall, the Cleveland Climate Action Fund and have teamed up again with to award $1:$1 matching funds to community projects that prepare Cleveland neighborhoods for the impacts of climate change.
As a part of the CCAF Crowdfunding Challenge, every dollar raised towards your ioby project could be matched up to $5,000 (or until the funds run out)! This effectively doubles the resources available to resident-led projects and programs administered by community-based organizations all over the city.
To get started, tell us about your project at .
PROJECT ELIGIBILITY
The CCAF Crowdfunding Challenge is designed to fund ideas that are innovative, practical, and sustainable. Projects will be assessed and awarded match funds based on the following criteria:
Project location is within the city of Cleveland
Projects have an impact by reducing local emissions or making neighborhoods more resilient to the impacts of climate change. Projects often seek to improve awareness, build wealth, or support environmental justice and better health. Example projects include tree plantings, clean energy or energy efficiency, and sustainable transportation initiatives.
Project demonstrates community buy-in by receiving at least 10 donations through its ioby campaign page before midnight on December 31st, 2017
TIMELINE
Feb 1, 2018: Deadline to submit your project idea at
Feb 30, 2018: Deadline to build your campaign page at
March 31, 2018: Deadline to receive 10 donations to your campaign page
April 19, 2018: Winners notified of match amounts
May 15, 2018: Crowdfunding campaign ends (fundraising stops)
By June 28, 2018: Check for amount fundraised + CCAF match grant arrives!
By June 31, 2019: Project implemented and results reported
Visit the Workshops page to see about opportunities in Cleveland to work on your project ideas.
QUESTIONS?
Contact , ioby's Cleveland Action Strategist, or call her at (216) 930-4030.
Can't wait to hear your ideas!